Well the weather Gods smiled and made a full Yankee Capts 2 day Mutton Marathon possible. After booking the trip, I kept checking the weather and it didn't change, less than 10 knots all weekend. I left the house on Thursday and drove to Islamorada where I stayed that evening with friends. One bad piece of news was sent to me while driving - the cook would not be available for this trip, necessitating a trip to the grocery to purchase food before boarding - no real problem as the boat did not leave till 5:00 PM on Friday and I enjoyed the leisurely 2 hour drive to Key West, bought some Publix food for the trip, plus a couple Egg McMuffins for breakfasts and I was set. Got to the boat about 1:00 and had time for a Cuban Sandwich at the Hogfish Grill next to the boat. I even got there early enough for a prime parking spot, right next to the boat. Gear loaded, rigs tied, bait preped and I'm ready to fish. Checked in with Capt Greg Mercurio and as the boat pulled away from the dock at 5:00, I headed below to try to catch a nap before the fishing started. I have never been able to sleep in route to the first stop, but at least I tried.
The engines throttled down at 11:30 and the anchor chain rattled as it dropped, sounding an alarm clock to all anglers. It was a light load of only 22 people and most were on the opposite side of the boat from my assigned spot, but with that light of a load, a lot of moving around can and did take place with no problems. During the first 45 minutes, at the first stop in 100 feet of water, I put 2 mutton snapper on the deck before the yellowtail turned on and turned the mutton bite off. After a couple hours, Capt Greg moved out to 120' and I caught a couple or three more muttons. 2 of these fish were caught on a Nekid Ball Jig. If you have not tried these lures, go get some. They work. I caught a total of 6 species on the NBJ in a period of an hour before Capt Greg moved the boat deeper where I could not get it wo work effectively as I did bot have any heavy enough.
Moving out to deeper water eliminated the pesky yellowtails and we started to put some quality fish in the box. I continued to pick away at the muttons and some of my fellow anglers went to jigs and caught black fin tuna and kingfish. A 45# kingfish won the pool. WE consistently moved deeper as the conditions were perfect, light winds and light current, fishing as deep as 300'.
The largest mutton was caught by another angler, guessing the weight at @ 20#, nice fish. I've only caught a couple over 20 in my 30 years of fishing on this boat. Anyway, as the trip progressed, Capt Greg moved the boat slowly back toward Key West and in shallower. Current was a factor here until the last stop in 120' where I boated an 18 pound Black Grouper as my last fish of the trip. Somewhere on the trip, I think it was in about 240' on Saturday night, I also caught an 8# Scamp Grouper, uncontested the best tasting grouper in the sea. I ended up with 13 Muttons and a bunch of nice flag Yellowtail, an Amberjack for the smoker, and the two aforementioned grouper. It's trips like this that make me return to fish this boat over and over. Thanks Capt Greg The neighbors and co-workers will be eating good for a while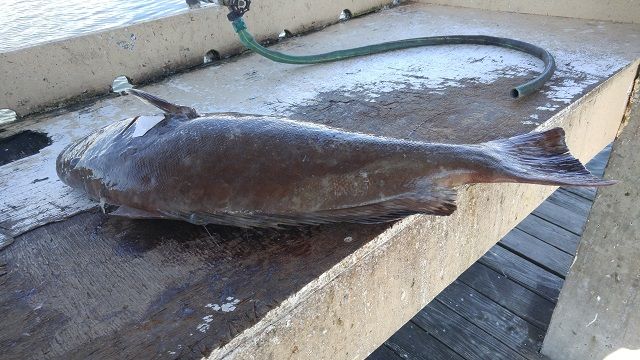 18# Black Grouper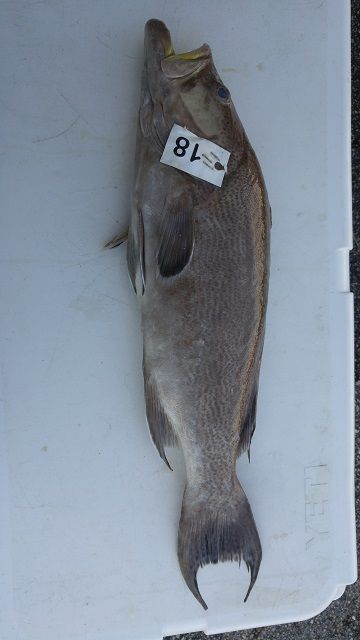 8# Scamp Grouper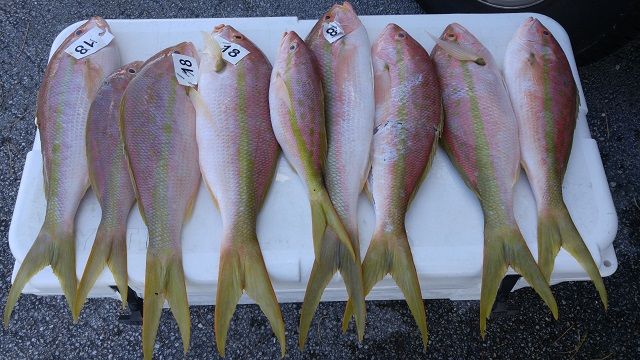 A brace of Yellowtail
A cooler full of Muttons